BISS Ch Rifleman Beauty Before Me (IMP NZ)
Ghostwind proudly presents from New Zealand

SHOOTER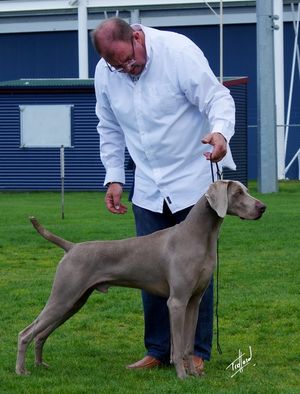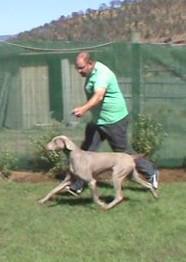 Shooter is full Ghostwind breeding and like all Ghostwind dogs is making his presence felt in and out of the show ring.  We would like to thank Glynis Shields of Rifleman Kennels (New Zealand) for allowing Shooter and litter sister Annie to join us at Ghostwind.
 
At the tender age of 6 months and 1 day Shooter is awarded his first challenge and Runner Up Best Of Breed at the Victorian Gundog Club in a full line up of males.
Keep your eye out for this stunning youngster who is taking all before him.

BEST IN SHOW - Gundog Club Of Tasmania Champ Show - Mrs T Ahlman Stockmari (FIN)
Reserve Challenge Dog/Puppy Of Breed - Sydney Royal 2012
BEST IN GROUP - WTKC April 2012
RUNNER UP BEST IN GROUP - Launceston Royal 2012
BOB - Launceston Royal 2013
RUBOB/RCC - Hobart Royal 2014

RCC/Intermediate In Group - Hobart Royal 2013
Critique from Group 3 Judge Mrs Anne Ingram (IRE)
Intermediate - Weimaraner Another really nice dog from the same kennel with his classic head, good reach of neck, good body and strong hindquarters, what a strong team of dogs this breeder is producing
Shooter is now a Mutli Best In Group Winner and has gained his Australian Championship title with Best Of Breed/Runner Up Best In Group at Launceston Royal 2012.
His progeny are making their presence felt in the show ring 
MBISS/RUBIS Ch Ghostwind Let Me Entertain You "Robbie"
NZ Ch Ghostwind Eye Candy "Candy"
Ghostwind Pips Double Take "Elsa"
BISS Ch Ghostwind Rumour Has It Addison"
Ghostwind Talk Of The Town "Lucas"
 Ch Ghostwind By Appointment Only "Mindy"
We have frozen semen from Shooter, please contact Sue for further details.
BISS Ch Rifleman Beauty Before Me (Imp NZ)
Am Ch Nani's Concert Master SH BROM

Am Ch B aht N'Greywind Playn' The Game

Am Ch Nani's Perfect Cadence BROM

Am CH Nani's Baht A Pack A Trouble CD JH V BROM

BISS/BIS Aust Ch Ghostwind Vivien Leigh

Aust Ch Grauhund Heartbreaker

MBIS Am Ch/Gr Ch Colsidex Grauhund Just Jeans (Imp USA)

Aust Ch Grauhund An Affairt Remember

Ch Ghostwind Windnthwillows

Aust Ch Ghostwind Pink Floyd

Aust Ch Mazlaren Wispa Inth Wind

Ch Ghostwind Perfect Picture

Am Ch/Can Ch/ Aust GR Ch Graytsky's Smokin' in Havana Imp USA

Am Ch/Can Ch Ashmores Win Weim Royal Flush AM JH

Am Ch Nani's Concert Master SH BROM

Am Ch Colsidex The Farms Reflection

Am Ch. 3XBISS GraytSky's StellaLuna BROMTop Producer

Am Ch Nani's Smart ALeck AM JH

Am Ch Nani N'Graytskys Harvest Moon

MBIS/MBISS Aust Gr Ch Ghostwind Pictureperfect

Aust Ch Ghostwind Pink Floyd

Aust Ch Mazlaren Wispa Inth Wind

MBIS/MBISS Ch Ghostwind Vivien Leigh

Aust Ch Grauhund Heartbreaker

Ch Ghostwind Windnthwillows